80 Exchange Mural Project
Erin Hutton, Project Director
The 80 Exchange Street Mural project is an investment in Portland, Maine's future. It will add color, visual interest, character and a unique sense of place to the location. The purpose of the 80 Exchange Mural is to enhance an already thriving public space with public art that is noncommercial, beautiful and thought-provoking. Fostering community and partnerships with the city of Portland and area businesses, this public mural will demonstrate a commitment to urban renewal and growth in the Portland neighborhood.
A committee reviewed 75 submissions and selected an artist based on their qualifications and experience. The committee was composed of the following members:
Jim Brady, president and director at Fathom Companies, Julie Larry, the Director of Advocacy for Greater Portland Landmarks, Cyrus Hagge, the founder and owner of Project Management Inc., Dan Crewe, the co-founder of the Bob Crewe Foundation, Jessica Tomlinson, the Director of Artists at Work at the Maine College of Art, Chris Denison, the owner of Light Impressions Glass Crafters in Scarborough, Maine, and Stev Parker, an experienced Portland attorney. Erin Hutton, former Director of the Institute of Contemporary Art and owner of Erin Hutton Projects, serves as the Project Director of the 80 Exchange Street Mural Project and oversees all aspects of the project.
The committee chose artist Will Sears for his abstract design and experience with large-scale murals. A Philadelphia native, Sears is the founder of Better Letter Hand Painted Signs, a company that hand paints signs, vehicles, and windows. He also co-founded the Portland Mural Initiative in 2015 with his partner, Tessa O'Brien. For this project, Sears takes inspiration from the colors of the Portland area, warm tones of brick and sunlight, mixed with cooler shades of blue which reflect the surrounding water. As such, it will be seen as a communal beacon, inspiring visitors and locals alike to become further absorbed in their world and reflect on the power art has in transforming space, both physical and social.
To see more of Will's work and other murals he has completed, please look at his website here: http://www.willsearsfineart.com/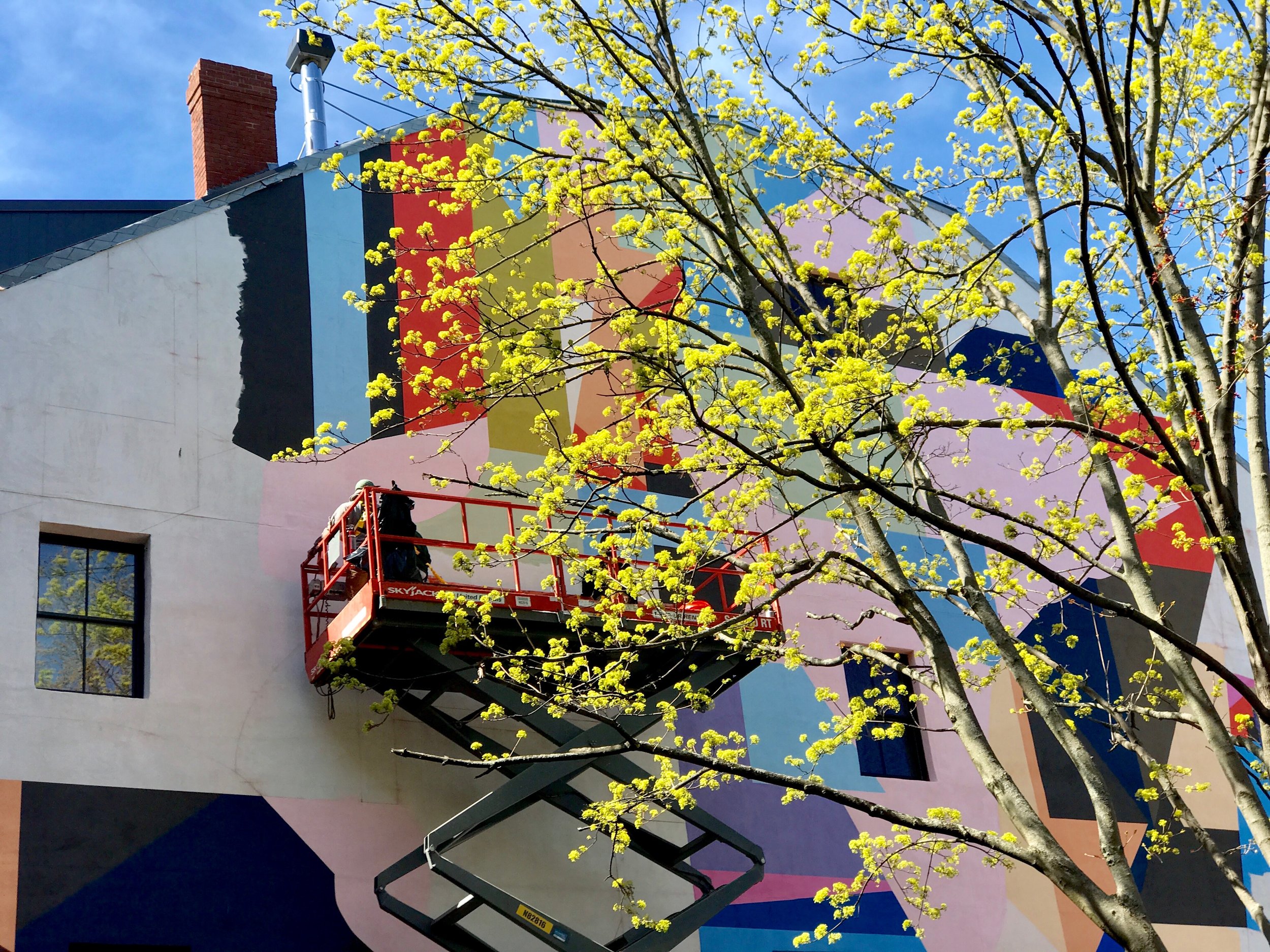 Will Sears - Mural Team:
Tessa O'Brien, Jenna Pirello, Jesse Littlefield, Bee Daniel , Ryan Adams, Rachel Adams, Spensor Macleod
Video Team:
Jay Brown - Rove Lab
Gabe Bornstein - Rove Lab